How To Maintain Bob Wigs?
Summer is coming, the bob wigs are become more and more popurlar. Many girls are intend to buy bob wig that won't be hot. But here comes a question: How can we maintain our bob wigs properly?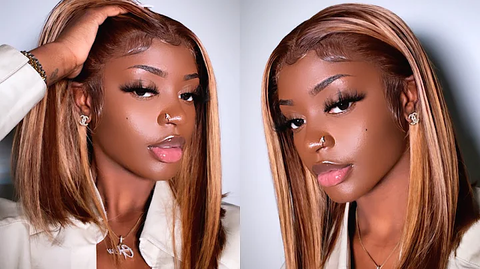 How to maintain bob wigs?
It is recommended that you wash your bob hair wig once a week with water temperatures between 35 and 40 degrees, starting from the roots and working with a wide-toothed comb. Shampoo (optional weak acid) must be washed with conditioner again after washing, and then dry with absorbent towel, spray special nutrient solution (solution) when it's semi-dry.
In addition, if you want a fluffy effect, then gently grasp with the hand, and comb. Because leave the human body of real human hair will lose the supply of nutrition, long-term will lead to irritability, so that the nutrition fluid (nursing fluid) is a necessity. Idoli Hair do not sell shampoo or conditioner, customers can buy in the supermarket, but nutrient solution (care liquid) is a necessity, to long-term use.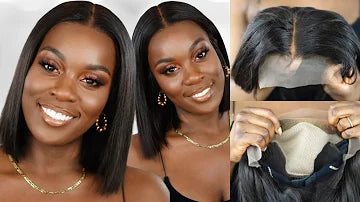 How to wash your bob wig?
1. The water temperature is between 35 °C and 40 °C. pour some shampoo into the basin and mix to dilute it. (be sure to remove the gel residue first.) Put the bob wig product into the basin and wash gently for about 15 seconds. Comb gently with the wash, must not be forced, pay attention to the protection of hair roots and net bottom. Wash the shampoo with clean water.
2. Apply conditioner gently. Use a comb to gently comb, let the conditioner cover evenly. Continue to use water between 35 and 40 degrees, wash off the conditioner, basic 3 times can wash off.
3. With a absorbent towel, and now the bob wig is half-dry. Then spray some detailer.
4. Put your bob wig on the hair-holder, then wait for dry naturally. If in a hurry, use a hair dryer. But note: Dry the bottom first.
How to install a bob wig?
1. Spread Your Fingers and open your net cap. Pull the hairnet over your neck and slowly pull it up to the hairline. Make sure to wrap it around the hairline.
2. After the adjustment, pick up the wig from the back to the front can be good, to adjust the position of the wig, and the wig cover will basically have an adjustment clasp, using the adjustment clasp hairnet can be more fixed wig. Will not cause it to fall off at will, causing embarrassment.
3. You also need a head adhesive which can help to kind of keep it down and in place, and more importantly it's also help the wig to have a melted appearance so you're gonna pretty much.
4. Cut off the spare lace. Then use adhesive to stick the lace part. Use a hair dryer to dry the adhesive.
5. Last you can make babyhair as you like.
Top selling short bob wig recommend to you
1. Brazilian Bob Wig Straight Hair Lace Front Wig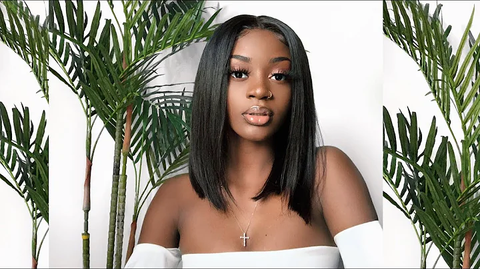 2. Blonde Straight Hair Bob Wig Human Hair 13X4 Lace Front Wig
     
3. Brazilian Curly Hair Bob Wig 13x4 Lace Front Wig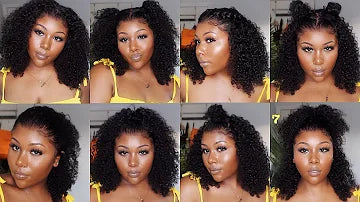 4. Idoli V Part Straight Bob Wig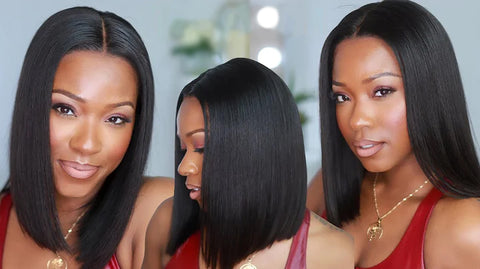 5. Idoli V Part Curly Bob Wig Short Bob Hairstyle Wig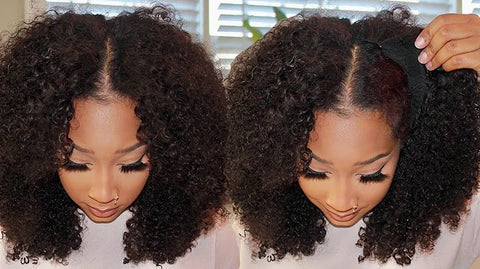 ---